Roe v. Wade Overturned: Artists Respond
September 28, 2022 @ 10:00 am

-

4:00 pm

Free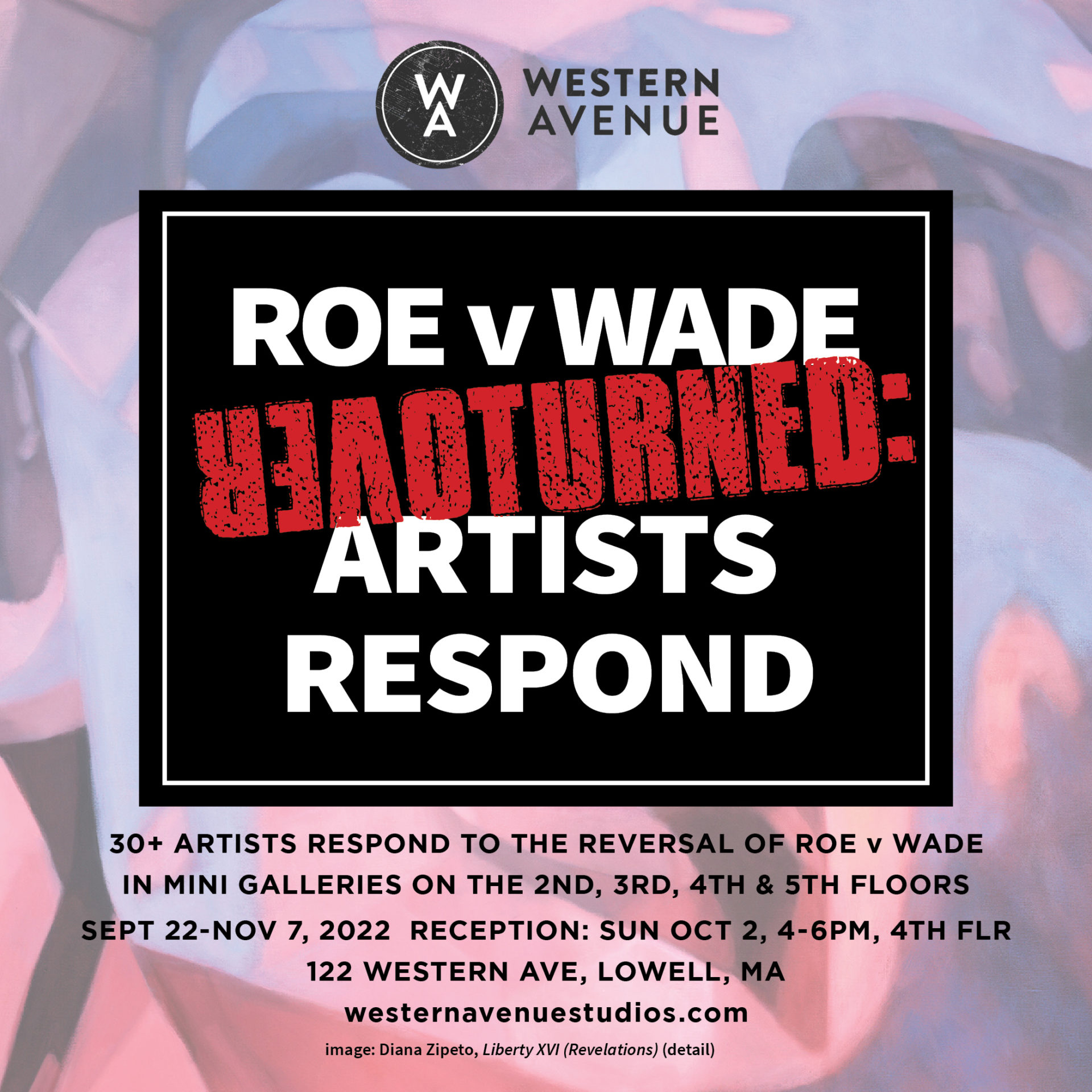 Roe v. Wade Overturned: Artists Respond is an exhibition with over thirty artists bringing together a variety of styles with work in photography, painting, mixed media, digital art and sculpture; shown in four Mini Galleries on the second floor, third, fourth, and fifth floors of Western Avenue Studios. The art addresses the loss of rights and autonomy for women through a wide range of imagery and emotion.
Participating Artists: Deb Arsenault,
Deb Banerjee
,
Katie Blue
,
Peggie Bouvier
, Deb Bretton-Robinson, Shoshana Burgett, Karen Chistianson, Katren Cleo, Gwen Corey, Sharon Cox,
May DeViney
,
Margaret Emerson
,
Hope Greene
,
Arlene Hammel
,
Nan Hockenbury
,
Suzanne Hodge
,
Wendy James
, Joshua Kennedy,
Tracy Levesque
,
Nancy Lesofsky
, Kes Maro,
Dina Mordeno
,
Anne Plaisance
,
Barbara Poole
,
Laurie Simko
, Lee Viliesis,
Bruce Wood
,
Diana Zipeto
.
Covid-19 Guidelines:
– Face coverings/masks are not required but recommended since some studios and businesses may require them for admission into their space.
– Guests who are experiencing Covid-19 symptoms or have been instructed to quarantine by a medical professional should not attend.
– We will have hand sanitation stations throughout the building.There is no charge for this event. This event is dog-friendly. We just ask that you keep your pup on a leash.
Located in both the 2nd floor, 3rd floor, 4th floor and 5th floor mini galleries.